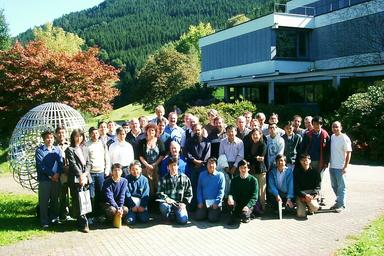 (Group photo taken from the official Oberwolfach web site www.mfo.de)
Look into one of the following categories to find snapshots of yours or others.
Please send a short note if you dislike any of these pictures and do not want to have it posted publicitly. I put the photos as they are. However, some of them are too dark and some people became red eyed: use gimp or friends to improve them as you like. For printing convert them first to postscript with a resolution of 180 dpi or better (180 dpi yields a copy of size 10 x 6.3 inches).